The short story behind my new jewelry line:
The "I AM" Collection by Eveolution Jewelry®
A number of months ago, I can't recall when exactly, I was hanging out with my husband, Kelly, on our back deck. As we were talking about life in general, I mentioned that I had this idea for a new jewelry design. I shared with Kelly that I was not inspired by all the word stamped/inspiration jewelry that was available. I also was not moved by just a word – examples: "PEACE", "HOPE", "LOVE", and "FAITH". As I was pondering this, other options rattled around in my brain.
Here's what I came up with – The "I AM" Collection by Eveolution Jewelry®
What is it? I decided to create rectangular links out of round heavy gauge Sterling Silver (.925 Silver) or Argentium™ Silver (.930 Silver) wire, cut them into various lengths, and hammered them flat. From there I used metal stamps and created individual tag components, the first tag says "I AM". The second tag says a word such as "TRUTH", "LOVE", "PEACE", and "STRONG". These are just four examples. The word possibilities are endless. Next, I punched holes into the tag ends so I could string them together with hand-made split rings and wire-wrapped gemstones. I match the word after the "I AM" with a gemstone that best describes it.
Here are two examples –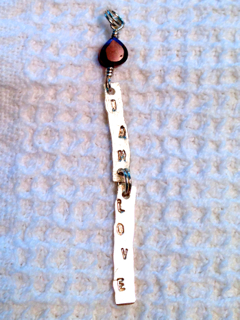 The "I AM" LOVE pendant shows a red garnet teardrop bead. Red Garnets signify love and have been given to express love throughout history.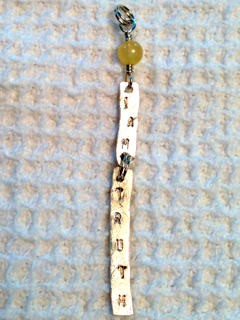 The "I AM" TRUTH pendant shows a yellow Aragonite. Aragonite is thought to ground and center and is used to face truth and reality.
Many items in The "I AM" Collection by Eveolution Jewelry® will have a stone that matches the word after "I AM". This combination makes the jewelry very special and my new jewelry line means more to me than just jewelry. They are the way I express my spirituality-the way I give back positive energy to the universe. As time moves forward, I will add more images to my blog and to my sales website at:
https://www.squareup.com/market/eveolution-jewelry