As you may know, by now, I love designing settings for un-drilled gemstones and cabochons.  A cabochon is a stone that is cut so it's flat on one side and not usually polished.  The other side of the stone is finished and usually has curved angles from the bottom of the stone towards the center.  This characteristic allows the stone setter, me in this case, to easily set the stone in metal.
I like to use metal wire for my metal stone settings: Sterling Silver (.925 Silver), Argentium Silver (.930 Silver), 14kt Gold-Filled, and 14kt Gold.  With this said, this post is about a setting for a Boulder Opal. This Boulder Opal isn't from Australia.  This stone is from Guatemala.  I didn't know Boulder Opals could come from other places.  I learn something new every day.
I used 22 gauge Argentium Silver 1/2 hard square wire.  Notice the unique shape of the stone.  It's triangular with rounded corners.  Instead of setting the stone at a straight angle, I chose to set it just off of the angle.  I think it gives the stone a softer appearance.  If you would like to see this stone in person, you can visit my friend Carol Garsten at Nature Gallery in Downtown Los Altos, CA., at –
296 State Street
Los Altos, CA 94022
650 327 8700
Once again, I hope you enjoy viewing this design creation as much as I enjoyed making it. By the way, I've attached before the setting and after the setting images for your viewing pleasure.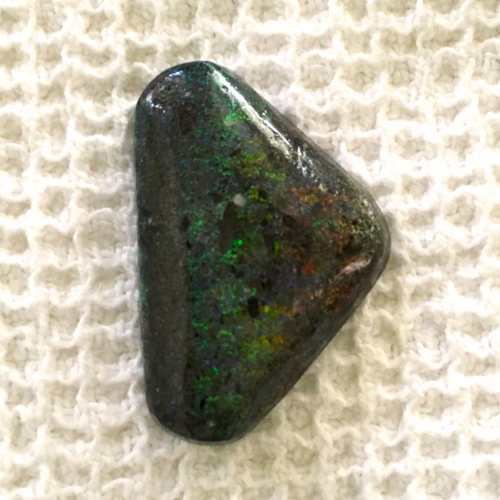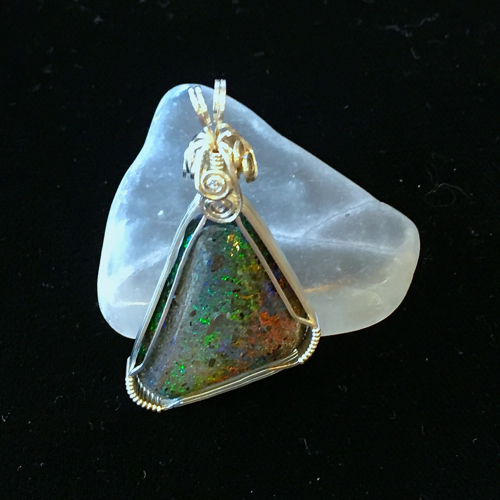 Cheers and Happy Super Bowl 50!!!!